Pittsburgh Commercial Truck Wraps
Do you use work trucks in your Pittsburgh business to make deliveries, perform jobs for clients, or as company vehicles?
Custom truck wraps and graphics that display your logo, brand message, and contact details prominently can help you maximize the marketing opportunity of your commercial vehicles.
Taking your brand on the road is a great way to exponentially increase the visibility of your brand to the people on the streets, other travelers, or anyone that may be looking outside the window. Having a fleet of branded company trucks is not only great for spreading your message consistently, but also helps build brand recognition. It also assures clients, both current and future, that you are a serious, professional business that's ready to work for them.
Call Pittsburgh Sign Company today at 412-365-4699 for a Free Consultation with a Truck Wrap Specialist!
High-Visibility Brand Marketing Tool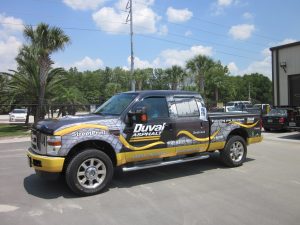 If you use the same route every day to travel to and from work you are simply another vehicle passing by, blending with the other vehicles around you. However, if you a custom truck wrap by Pittsburgh Sign Company, you will start getting more phone calls, strangers will start approaching you, and it will seem like your brand is recognized by everyone.
The reason why this is the case is that vehicle wraps are not only important for providing greater visibility for your marketing message, but they also provide a branding effort that's consistent. Most people use the same route to work each day, which means that you probably pass the same people every day, whether you realize this or not. If they had a giant sign wherever they went, you would probably remember the person who always has a giant sign. The same applies to your vehicle. Vehicle wraps transform your corporate vehicles into memorable and recognizable works of custom art that help attract attention and reinforce your message whenever they see it.
Completely Customized for Your Needs
Each Pittsburgh, PA business is unique, which means that a unique marketing message is needed. The wrap performs a service for you, and for it to do this, it should be professional and eye-catching with elements large enough to be seen clearly from a distance as well as having a layout that complements the vehicle's shape. Our designers of custom truck wraps are skilled at designing the best wrap, magnets, or graphics for your vehicle and will help determine which product is best for you.
Trust Pittsburgh Sign Company for the design, manufacture, and installation of:
Vehicle Magnets
Custom Truck Decals, Stickers, and Graphics
Perforated Window Film
Full Truck Wraps
Partial Truck Wraps
Businesses today often utilize vehicles of different types for work functions too, and we can create wraps for virtually anything from ATVs to RVs. We create a cohesive design and make the necessary modifications to ensure that it is a perfect fit to vehicles of any type thus providing the ultimate brand consistency.
Protect Your Vehicle Investment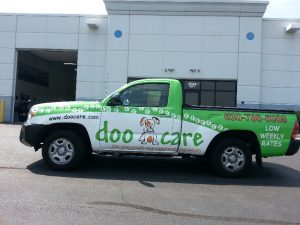 Truck wraps are much more than an amazing tool for branding. The durable vinyl film used to make the wrap also provides an additional layer of protection to the vehicle's factory paint job and shields it from road wear and weathering. Work vehicles are a significant and long-term investment for your business, which is why you need to take measures available to you to help increase their value, longevity, and lifespan.
The right installation is critical to ensuring that the wrap is not only great looking, but also provides the expected level of protection. We have a professional installation team that handles the whole process from start to finish, providing a finished product that we will be both proud putting our name on.
Complete Truck Wrap Manufacturer
We are committed to offering any assistance through each step of the wrap process from the consultation to installation, maintenance, and even wrap removal. We have a team of professional and fully-trained designers, manufacturers, and installers who will help in the design, creation, and installation of an attractive and durable wrap for your truck guaranteed to extend the life of your vehicle.
If you have an existing wrap that was damaged, we can help you get back in tip-top shape, whether or not the work was originally done by us.
Free Truck Wrap Consultation
Partner with us to increase your brand visibility, protect your investment, and attract new clients and customers with a high-quality and durable truck wrap. Your trusted Pittsburgh partner for cohesive, attractive vehicle graphics, wraps, and other business signage that improves the visibility of your business and supports your brand is Pittsburgh Sign Company.
Call Pittsburgh Sign Company today at 412-365-4699 for a Free Consultation with a Truck Wrap Expert!