Pittsburgh Custom Office Signs & Graphics
View Office Sign Gallery
Pittsburgh Sign Company designs and fabricates attractive cohesive office-related signs and graphics for a wide variety of uses including branding, accessibility, wayfinding, and much more!
Effective office signage should consist of individuals signs that are complementary as a whole. It is little wonder that businesses set up branding and signage guidelines that ensure that their outdoor and indoor signs work together in building and strengthening their brands in every regard. Pittsburgh Sign Company fully understands and appreciate this factor in signage development, which makes us your best local Pittsburgh signage partner.
Call Pittsburgh Sign Company today at 412-365-4699 for a Free Consultation with an Office Signs Expert!
What Signs Does My Office Need?
When it comes to indoor signage, we can produce a wide variety of signs and graphics. However, businesses cannot make use of all the signs in existence and instead need a unique blend that works perfectly for their brand, facilities, and business types.




Common office signs include:
Lobby logo sign,
ADA signs,
Directory signs,
Room identification signs,
Door signs,
Floor graphics,
Wall murals,
Wayfinding signs & much more.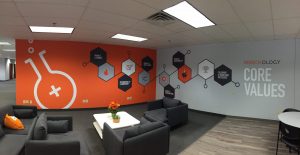 Business signage serves a wide variety of purposes and functions to meet a slew of demands. For starters, the business signage can enhance brand identity amongst your clients and customers. The signs also play a huge role in helping business visitors navigate the facility, which is important for user experience. They also play a huge role in telling your story to visitors and your team of workers. This is especially true for wall murals. Finally, some signs are mandatory as they are legally required for safety and other purposes.
The Process Of Creating Impactful Office Signage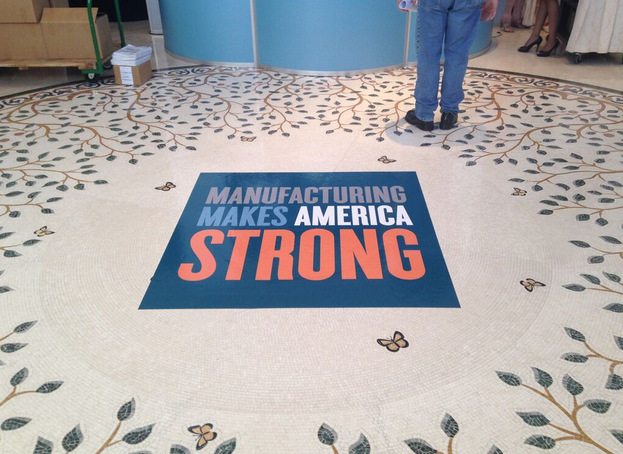 Creating impactful office signage is a process that needs careful planning. With this in mind, we start by providing an all-important on-site consultation. This way, attain an intricate and in-depth understanding of your business, space, current signage, as well as your brand personality. This, in turn, helps us understand and provide you with the best signage solutions and products that will have a positive impact on your Pittsburgh, PA business.
Pittsburgh Sign Company retains this intricate process of developing signage for both new and old businesses alike. Our dedication to providing high-quality signage gives an edge when it comes to helping businesses across different phases of growth. Importantly, it also ensures our clients and customers gain the maximum bang for the buck possible from their investment.
For All Types of Offices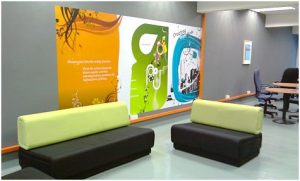 No two businesses are alike. Keeping this in mind, we appreciate that offices vary greatly and in turn, their signage needs vary greatly as well. Pittsburgh Sign Company is adept at working with a wide variety of offices including school offices, corporate offices, medical service offices (dentists and physicians), and much more. We have the right solutions and products to cater to your unique needs.
Whether you are looking for cohesive multiple office signage or signage for a single office, we can handle it. We produce our products and device our solution in-house, ensuring that our offers are cost-effective for our esteemed customers and clients.
Local Full-Service Signage Provider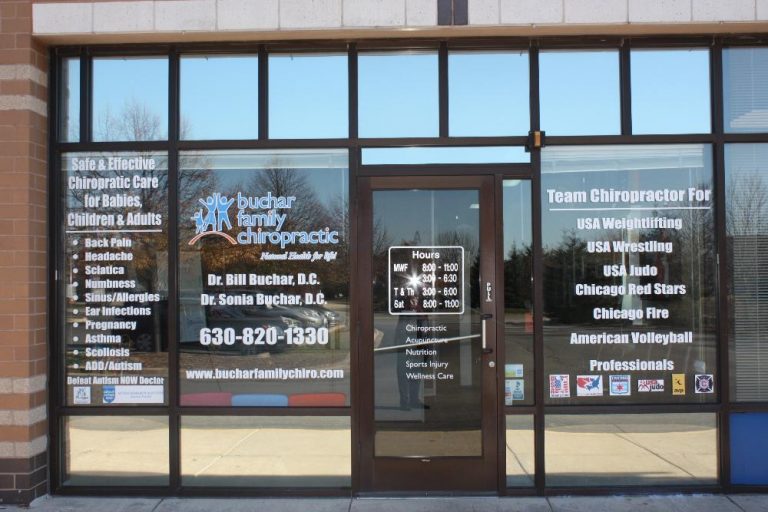 Pittsburgh Sign Company is your local signage partner. We provide personalized solutions for businesses looking for both individual graphic elements and entire office signage. In doing this, we provide support and assistance and make use of our expertise to provide high-quality office signage products and solutions.
As such, whether you are interested in clean-sheet signage designs or have print-ready design files, we endeavor to produce high-quality signage products befitting your high-quality brand.
Free Office Sign Consultation
At Pittsburgh Sign Company, we focus on providing customer-centric office signage services and products. Our experienced and dedicated Pittsburgh technicians are always ready and willing to help our esteemed clients get the best signage and office graphics possible, thus ensuring customer-needs are met.
Call Pittsburgh Sign Company today at 412-365-4699 for a Free Consultation with an Office Signs Expert!